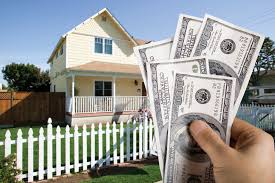 I've had a lot of buyers in the past not know the answer to this question. Mostly because it depends...on a lot! Ill separate them into categories for you and this is ALL upfront, before you close and get the keys. Please note that these are close estimates.
Earnest Money Deposit
When you find a house and write an offer, you will most likely be asked to put down earnest money. Earnest money is money from you that is put into an escrow account and holds the house off the market while you do your inspections and your loan processes, You will get this money credited back to you-when you close. The amount depends, it can be $500.00, $1000.00, or it can be a percentage of the purchase price. The seller usually determines the amount, however, you can try to put anything you'd like in that blank on the contract. If the seller desires more, you will know!:D
Inspections
It is always highly recommended for you to get inspections done on the house you are buying. I highly recommend them! There are many different types that you can have done.
Whole house inspection- this is what it sounds like. the inspector will go through and look at everything he has access to and can see. It takes 3 to 4 hours and costs about $225-$275 depending on the inspector.
Termite- Have a termite inspector come out and look. This costs $35-$75.00
Radon Testing- This is something more & more of my buyers are doing. Radon comes from the ground and is said to be the leading cause of lung cancer. A radon test takes 2 days and costs anywhere from $150-$175.
There are other inspections that you can do, I've never had a buyer do any of them, but they ARE there. For example, mold, lead based paint, and any further inspectors/contractors can come out to check roof, plumbing, electrical, mechanicals, foundation etc. The whole house inspector will note on his report if there's something that needs to be checked further. You can also pay a surveyor to come out and mark where the boundary lines are for a fence or something, To have something surveyed usually costs around $800.00 to have done.
Again, I highly recommend you to do inspections. a few hundred dollars could save you from buying a money pit and save you thousands to tens of thousands of dollars later.
Appraisal
The lender that I have been sending my buyers to lately does not ask for this upfront, but charges it to you at closing. Some lenders want it from you upfront though. An appraisal will cost around $ 400.00.
Down Payment
This is dependent on a few things--- who your lender is, what type of loan you are getting, what percent you are putting down, the price of the house you are buying, and if you qualify for any grants or not. If you are getting an FHA loan, you will only need 3.5% a conventional loan, 5%-20%, VA loan -0% . Some loan programs, if you qualify for them, will only require $100.00 down. If you qualified for the grant, $1000.00. This is very dependent on the list of things I mentioned.
Buyer Premiums
This does not appear very often. If the house you are buying has a buyer premium attached to it, itll be disclosed to you. This will be added to your closing costs. 
Some realtors charge their buyers a buyer premium at closing, I do NOT.
Closing Costs
Closing costs are what the title company and lender is charging you. Generally, it is around $2000-$2500, depending on the lender you choose. You CAN ask for the seller to pay for these on your behalf in the contract when you are negotiating in the beginning.
At closing you will have all of your debits (appraisal, closing costs, down payment etc) and your credits (earnest money, loan, tax credit from the seller etc) applied to you at closing. whatever is left is what you will bring in to closing.
So to recap, appraisal, down payment, and closing costs you are bringing it to closing with you. The earnest money and inspections, upfront at the beginning. Any questions??? Just ask! It is my job to help when & where I can. I enjoy my job and I enjoy helping others !8)